1 min ago
At least 6 Republicans will vote to impeach Trump
From CNN's Maureen Chowdhury
Republican Rep. Dan Newhouse, of Washington, tweeted his statement where he indicated that he will vote in favor of impeaching President Trump.
"Turning a blind eye to this brutal assault on our Republic is not an option," Newhouse stated.
Newhouse now joins other Republicans who have said they will vote to impeach Trump. At least six have said they will break ranks.
Newhouse just spoke on the House floor as well.
These are the Republicans who say they will vote for impeachment (so far):
Rep. Dan Newhouse of WashingtonRep. John Katko of New YorkRep. Jamie Herrera Beutler of WashingtonRep. Adam Kinzinger of IllinoisRep. Fred Upton of MichiganRep. Liz Cheney of Wyoming
7 min ago
GOP congressman will vote for impeachment: We "are responsible for not speaking out sooner"
From CNN's Adrienne Vogt
Republican Rep. Dan Newhouse explained why he will vote in favor of impeaching Trump, saying, "There is no excuse for President Trump's actions."
"Others, including myself, are responsible for not speaking out sooner — before the President misinformed and inflamed a violent mob," Newhouse said.
Newhouse said Trump did not act to stop the insurrection at the Capitol.
"There is no excuse for President Trump's actions. The President took an oath to defend the Constitution against all enemies, foreign and domestic. Last week, there was a domestic threat at the door of the Capitol, and he did nothing to stop it. That is why with a heavy heart and clear resolve, I will vote yes on these articles of impeachment," he said.
13 min ago
Liz Cheney on calls to resign: "I'm not going anywhere"
From CNN's Annie Grayer
GOP Rep. Liz Cheney, the number three House Republican, responded to calls for her to resign after she came out in support of impeaching President Trump.
"I'm not going anywhere" Cheney told reporters at the Capitol Wednesday.
"This is a vote of conscience. It's one where there are different views in our conference. But our nation is facing an unprecedented, since the civil war, constitutional crisis. That's what we need to be focused on. That's where our efforts and attention need to be."
Earlier today, Rep. Jim Jordan, a staunch Trump ally on Capitol Hill, told reporters he thinks Cheney should be ousted from her leadership position after she said she'd support impeaching the President.
Cheney announced Tuesday she would vote in favor, issuing a scathing statement that charged there had "never been a greater betrayal by a President of the United States of his office and his oath to the Constitution."
9 min ago
House Minority Leader McCarthy: Trump bears responsibility for Capitol attack
From CNN's Adrienne Vogt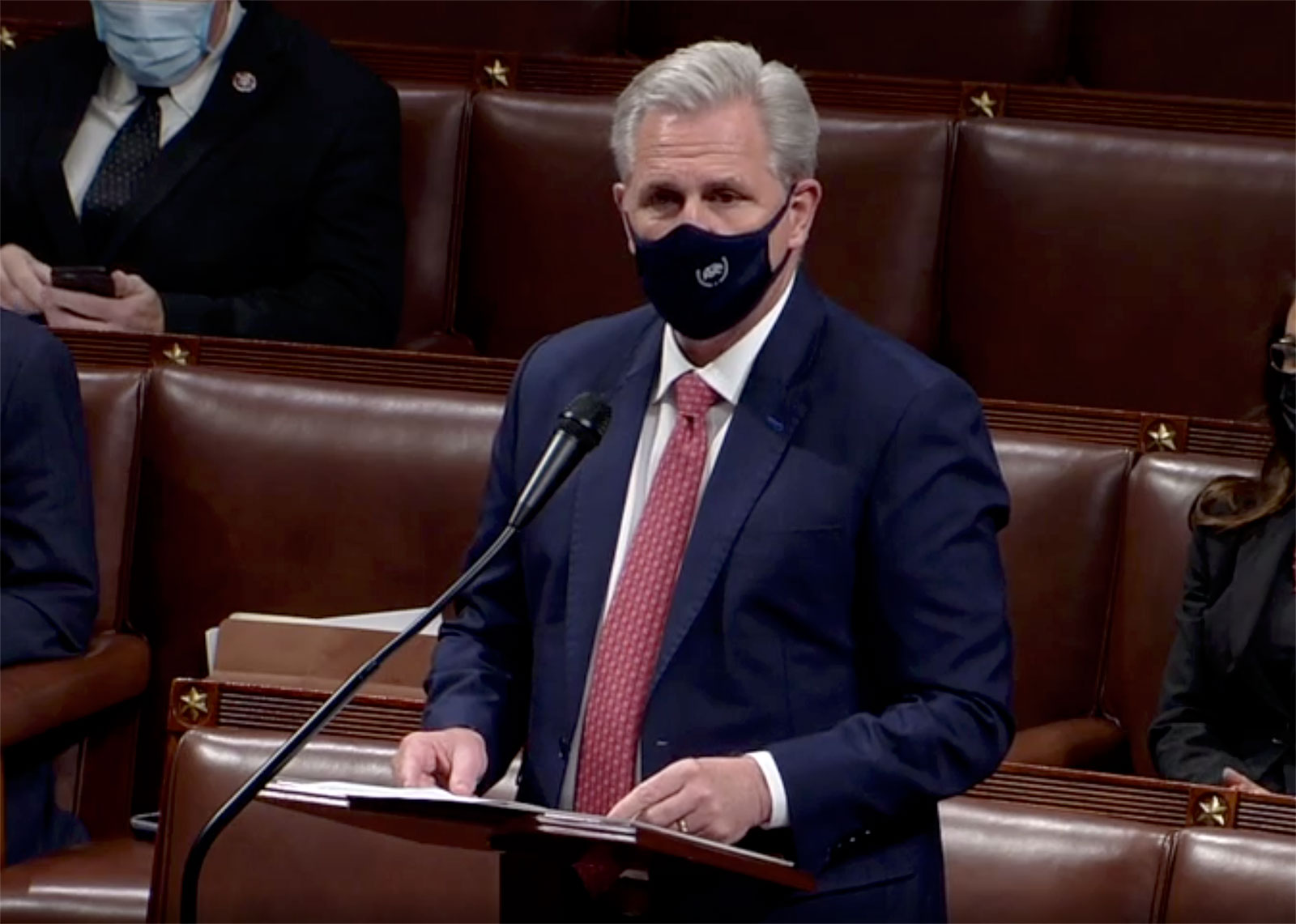 House TV
House Minority Leader Rep. Kevin McCarthy said that President Trump is responsible for the deadly Capitol attack last week but said impeaching him would be a "mistake."
"The President bears responsibility for Wednesday's attack on Congress by mob rioters. He should have immediately denounced the mob when he saw what was unfolding. These facts require immediate action of President Trump," McCarthy said.
He called the attack "undemocratic, un-American and criminal."
McCarthy said that impeaching Trump would divide the country further and called for Congress to focus on uniting Americans.
"I believe impeaching the President in such a short time frame would be a mistake. No investigations have been completed. No hearings have been held," he said.
See it here:
19 min ago
Democrat says House members could have been killed by Pro-Trump rioters during Capitol attack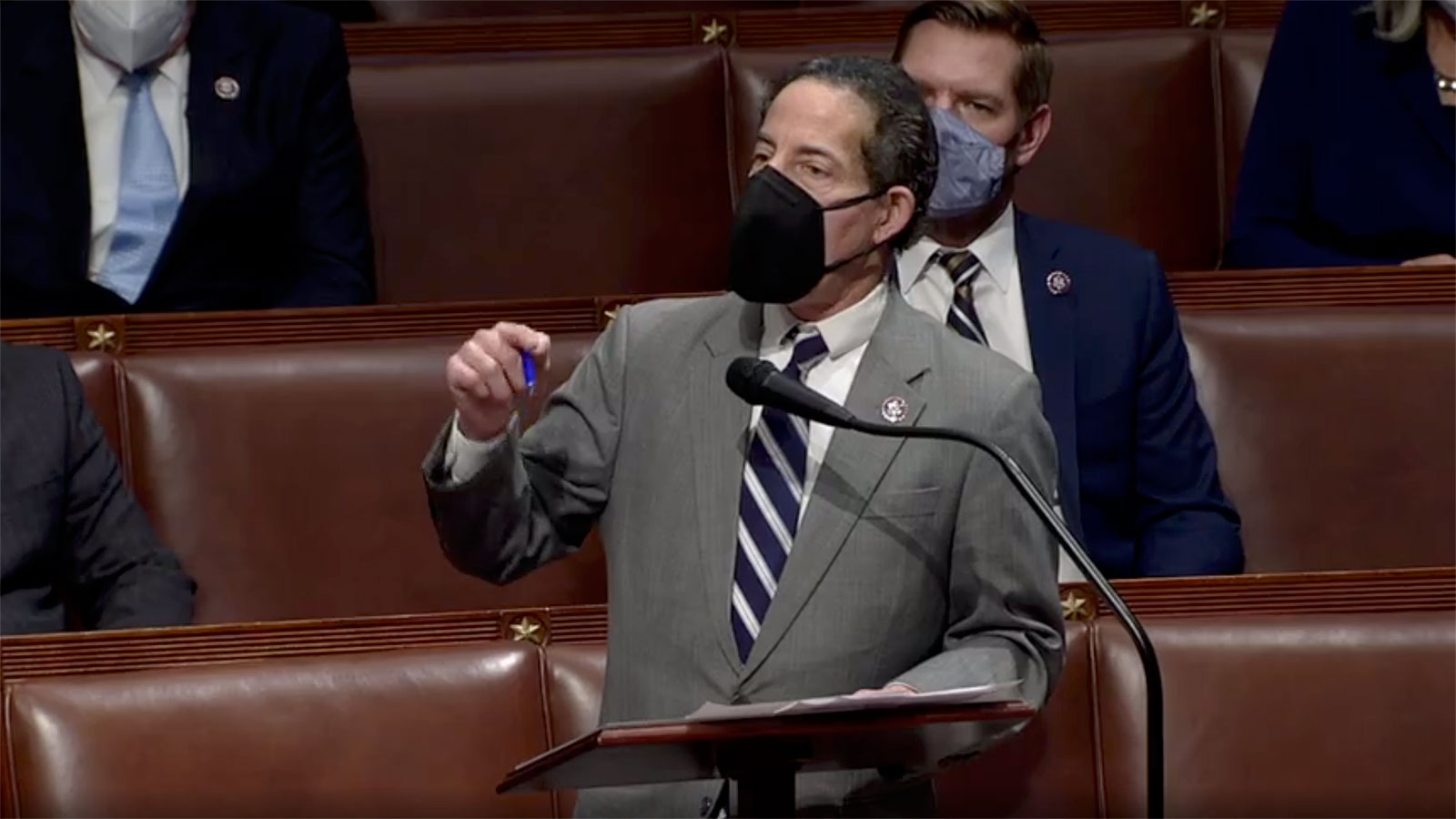 House TV
Rep. Jamie Raskin said that House members "could've died" during the Jan. 6 insurrection.
He mentioned that the mob had erected a gallows outside the Capitol building and were heard chanting "Hang Mike Pence." He added that some of those who stormed the building got into Nancy Pelosi's office and were heard yelling, "Where's Nancy?"
"They may have been hunting for Pence and Pelosi to stage their coup, but every one of us in this room right now could've died," Raskin said.
The Maryland Democrat added, "it's a bit much to be hearing that these people would not be trying to destroy our government and kill us if we just weren't so mean to them."
Watch:
15 min ago
No evidence that Antifa caused riots at the Capitol, House Minority Leader says
From CNN's Aditi Sangal
House Minority Leader Kevin McCarthy dismissed claims that supposed left-wing activists, namely Antifa, were responsible for the riots at the US Capitol.
"Some say the riots were caused by Antifa. There is absolutely no evidence of that. And conservatives should be the first to say so. Conservatives also know that the only thing that stops mob violence is to meet it with force rooted in justice and backed by moral courage," he said Wednesday.
The FBI told reporters Friday there's "no indication" that Antifa disguised themselves as Trump supporters to join the ranks of the mob.
Read a fact-check here.
18 min ago
House Democrat asks GOP colleagues if they'll choose to "stand for the republic" or Trump
From CNN's Aditi Sangal
House TV
Democratic Rep. David Ciccilline urged his fellow lawmakers to support the impeachment of Trump and stand for the republic instead of this President.
After recounting the storming of the US Capitol that followed a Trump rally in Washington, DC, he asked his fellow lawmakers who planned to vote against impeachment: "Is this the kind of country you want to live in? What are you going to tell your children and grandchildren when they ask what you did in this moment? Did you stand for the republic or for this President?"
Ciccilline, who co-wrote the impeachment article, added:
"Heed the words of Abraham Lincoln, the first Republican President who told our country that a House divided against itself cannot stand. This great House, in which he served, cannot and will not endure if we do not stand together now. The President and the terrorists who stormed these halls last Wednesday did not succeed in toppling our republic. We must ensure they never do."
See his remarks:
25 min ago
Impeaching Trump a second time would split the US, GOP Rep. Van Drew says
From CNN's Adrienne Vogt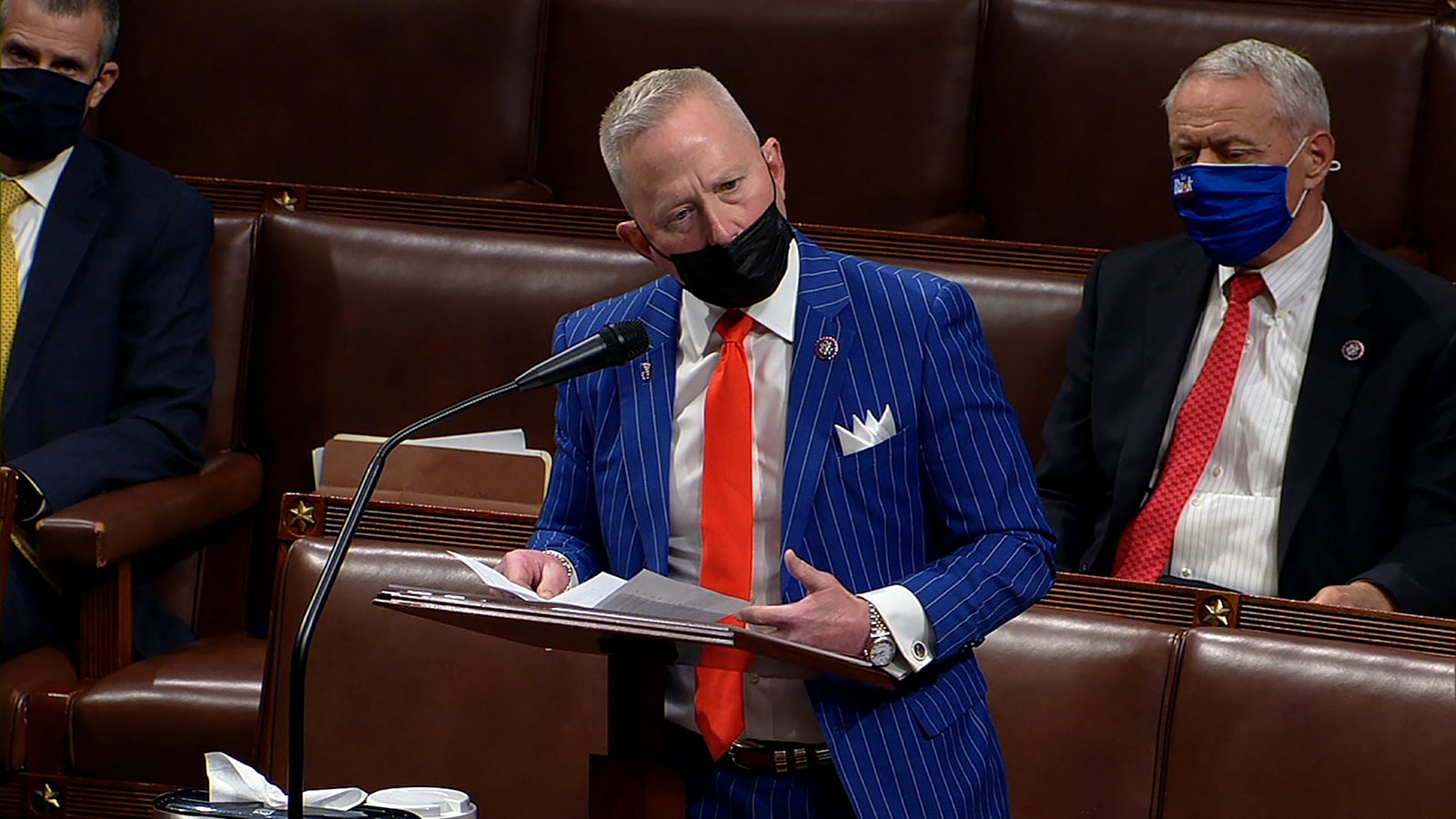 House TV
Rep. Jeff Van Drew, a Republican from New Jersey, said that impeaching President Trump for a second time would "fracture" the country again.
"We've been here before. We've done this before. This has failed before. We fractured our nation using the same process before. Congress must be the glue that starts unifying everyone," Van Drew said.
For context: Van Drew is a former Democrat who flipped to the Republican Party in 2019. He said the "final sign" for him to switch parties was being told to vote in favor of Trump's first impeachment.
"Nearly half the country supports our current president. This takes their voice away. We must be bigger and better than the most base of instincts that have been driving our political discourse. It is destroying us," he said.
WATCH HIS REMARKS HERE:
42 min ago
Democratic congressman says some House members may be "co-conspirators" of Trump in inciting riot
House TV
Rep. Cedric Richmond, a Democrat from Louisiana, noting that it would likely be his last floor speech before he leaves the House, said today that some of his fellow lawmakers "may well be co-conspirators" of President Trump in inciting the riot last week.
"President Trump put the domestic terrorists on notice by saying, stand back, and stand by. He then summoned them to DC, directed them to march on the Capitol. And then he sat back and watched the insurrection," he said.
Richmond continued: "Some of my colleagues, some of which may well be co-conspirators in their latest attempt to placate and please this unfit president suggest that we shouldn't punish him in order to unify the country. That is the climax of foolishness."
Richmond said that during Trump's first impeachment Republicans said Congress didn't need to impeach him "because he learned his lesson."
"Simply put, we told you so," he said.
As his time expired, he closed with a sign-off: "Richmond out."
Some context: Louisiana Rep. Cedric Richmond will join President-elect Joe Biden's White House, departing the New Orleans-area House of Representatives seat he has held since 2011. Richmond will serve as senior adviser to the President and director of the White House Office of Public Engagement.
Watch: