3 min ago
GOP Rep. Young Kim says she supports censure, but not impeachment
From CNN's Alex Rogers
California GOP Rep. Young Kim, who narrowly won her seat in November, said she supports censuring President Trump but opposes impeaching him.
"I believe censuring the president is a better option. This would be a strong rebuke of his actions and rhetoric and unite our country and chamber, rather than divide it," she said.
Read her full statement:
"The violence we saw last week was disgusting. Our law enforcement was attacked, lives were lost and more were put in danger. These rioters must be held accountable. Words have consequences and I believe the president should also be held accountable.
The election is over. I announced my intention to certify the electoral votes before these events with the hope that we can move forward, deescalate our rhetoric, and work together to heal our wounds. This violence and division must stop. However, I believe impeaching the president at this time will fail to hold him accountable or allow us to move forward once President-elect Biden is sworn in. This process will only create more fissures in our country as we emerge from some of our darkest days.
I believe censuring the president is a better option. This would be a strong rebuke of his actions and rhetoric and unite our country and chamber, rather than divide it. That is why yesterday I joined several of my colleagues in introducing a strong resolution censuring the president for his actions on January 6.
Words matter. Both of our parties must set better examples for our constituents, the nation, and the world. We must condemn violence in all forms and be able to peacefully debate issues and have disagreements without being disagreeable or making personal attacks on one another. As Americans, we are better than this violence and must move forward. The first Koreans came to the United States on this day in 1903 in search of a better life, and now 118 years later I am one of the first Korean American women to serve in Congress. I know we are the land of opportunity that welcomed me and my family into its fabric and allowed me to realize my American dream by receiving an education, starting a business, raising a family and now giving back to the community I call home as a member of the House of Representatives. This is the America we all know and love. I will do my part and look forward to working with my colleagues on both sides of the aisle for the betterment of America and the people of California's 39th Congressional District."
2 min ago
New Jersey governor says he supports impeaching Trump
From CNN's Lauren Del Valle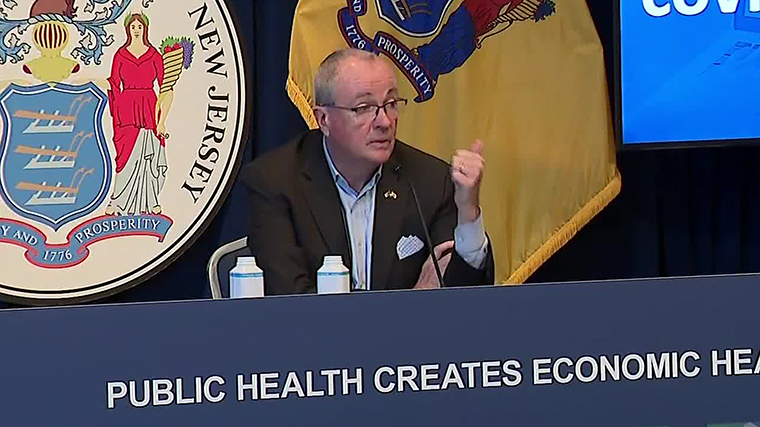 Pool
New Jersey Gov. Phil Murphy said he fully supports lawmakers impeaching President Trump.
"To those of you who think, well he's only got one week left, this is not about time. It's about doing what's right, it's about setting a higher bar for the presidency of this country, it's about standing up for the Constitution and the rule of law," Murphy said during a news conference Wednesday.
"It gives me no pleasure to say so but the President must be impeached. And he must be removed from office. And I would hope the Senate would take up the matter with all speed so that President Trump's actions become a cautionary example for future leaders that our Constitution is larger than they are. Otherwise, our democracy already shaken could crumble," he said.
Murphy, a Democrat, praised Republican Rep. Liz Cheney for supporting Trump's impeachment.
"I don't think I'll often find myself in agreement with Wyoming Representative Liz Cheney, the third highest member of the House Republican leadership but I do here and I give her a huge shout out for being on the right side of this from moment one, never equivocated," he said.
"Representative Cheney said of President Trump's last actions last week and I quote her, 'there has never been a greater betrayal by a president of the United States of his office and his oath to the Constitution,' and that he hits it on the head," Murphy added.
8 min ago
Pelosi lectern carried by rioter rolled out for ceremony tonight
From CNN's Adrienne Vogt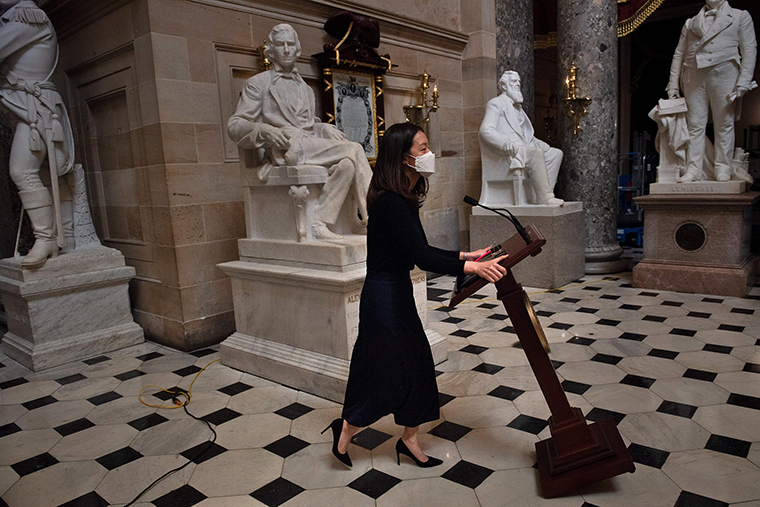 A staff member moves Speaker of the House Nancy Pelosi's lectern on Wednesday, January 13, in Washington, DC. Brendan Smialowski/AFP/Getty Images
A lectern of House Speaker Nancy Pelosi, which was seen being held by a rioter as a pro-Trump mob stormed the US Capitol last week, was set up for an enrollment ceremony tonight in the House of Representatives.
Adam Johnson, of Florida, was arrested in the state Friday and booked into the Pinellas County Jail just days after he was allegedly caught on camera carrying the House speaker's lectern.
28 min ago
Fact check: Texas Republican falsely claims Democrats refused to condemn riots last year
From CNN's Daniel Dale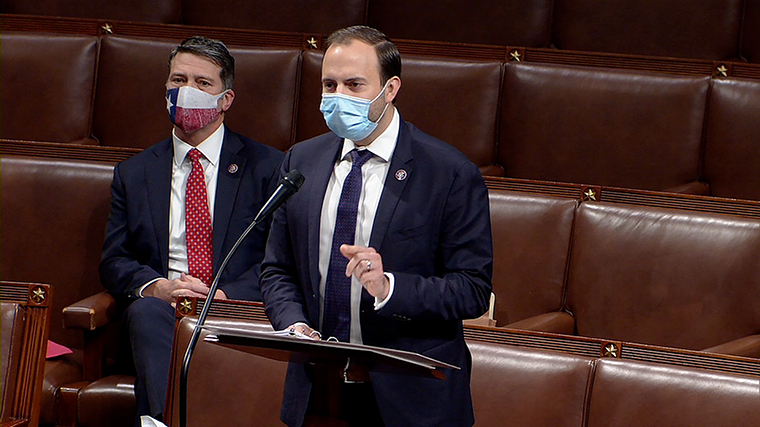 House TV
In opposing the impeachment resolution, Texas Republican Rep. Lance Gooden said, "And I also want to thank my Democratic colleagues for finally joining Republicans in condemning mob violence after six months of refusing to acknowledge it."
Facts First: This accusation is false. Numerous Democrats — including President-elect Joe Biden, House Speaker Nancy Pelosi, and other senior members of the party's congressional caucus — condemned rioting and looting last year while also supporting peaceful protests against racism and police brutality.
Republicans are entitled to argue that Democrats should have issued such condemnations more forcefully or frequently, but it's just inaccurate to say they didn't issue the condemnations at all.
1 min ago
Legal snag arises for DOJ to keep holding defendant who threatened Pelosi
From CNN's Katelyn Polantz
The Justice Department appears to be hitting up against the potential limits of the law, as they try to keep people detained who came to Washington last week for a coup attempt.
A judge is already asking for more from the Justice Department on why he should keep one defendant locked up who brought guns and ammo to Washington and wrote in text messages about shooting House Speaker Nancy Pelosi and DC Mayor Muriel Bowser.
One of the more serious cases so far, against Cleveland Meredith Jr., who is accused of threatening Pelosi and bringing hundreds of rounds of ammo and guns to Washington, DC, is where this came up today.
Prosecutors had asked for Meredith's detention. Meredith's lawyer countered that keeping him locked up because of perceived "dangerousness" alone is not enough under the law.
"Congress restricted the government's ability to request detention," Meredith's lawyer wrote in a court filing Wednesday afternoon, citing the Bail Reform Act limitations that reasons defendants can be kept in jail must be because they are a flight risk, potentially obstructive or charged with crimes of violence, a drug offense, or an offense that could merit a life sentence or death.
His lawyer argued Meredith should be released while he awaits his trial.
Meredith has not yet been indicted, and was arrested last week on a criminal complaint alleging that he illegally possessed weapons and made the threats.
He was set to have a judge decide whether he should be detained today. That is now being postponed until tomorrow, and DOJ is getting another opportunity to argue for why he should remain in jail.
Meredith is still detained.
He has no prior convictions on his record, his lawyer also argues.
53 min ago
Rep. Crow to GOP colleagues: Show a fraction of the courage we ask of our troops, vote to impeach
From CNN's Maureen Chowdhury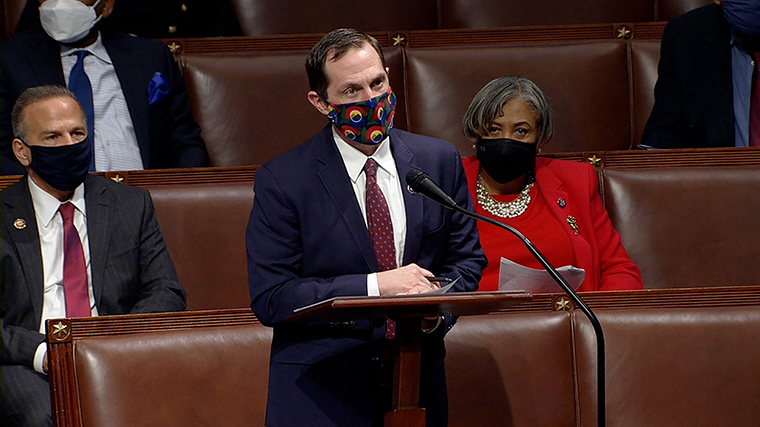 House TV
Democratic Rep. Jason Crow, a veteran, called on his Republican colleagues to show a fraction of the courage of US troops by voting to impeach President Trump despite their fear of consequences.
"I have dedicated my life to the defense of our nation. And Donald Trump is a risk to all that I love," Crow said.
"Some of my Republican colleagues are afraid of the consequence of an impeachment vote but this Congress sends our men and women to war every day. I'm not asking you to storm the beaches of Normandy but show a fraction of the courage we ask of our troops every day. Leadership is hard. It's time to impeach," Crow said.
See the moment:
46 min ago
TSA increases security measures on DC flights, including some second ID checks
From CNN's Greg Wallace, Pete Muntean and Jeremy Diamond
Heightened airport security measures around inauguration in some cases include a second screening of passengers boarding flights, the Transportation Security Administration acknowledged to CNN.
The second check at the boarding gate is in addition to the standard screening procedures done at TSA checkpoints.
"This is a routine practice and represents one of the multiple layers of security that we employ," agency spokesperson Carter Langston told CNN when asked about an account of TSA officers stopping passengers at the gate of a Washington-bound flight to check identification and bags.
"It may occur with greater frequency due to recent and upcoming events, but it is a routine practice," Langston said.
The screening of DC-bound passengers is in addition to a heightened security and police presence at the three Washington-area airports that has included armored vehicles and a notable number of visible officers in terminals.
TSA told CNN on Monday that the agency is on "high alert."
The developments come after rowdy incidents on airplanes and in airports as the rioters who ransacked the Capitol building traveled to and left Washington.
The Federal Aviation Administration has warned individuals who "interfere with, physically assault, or threaten to physically assault aircraft crew or anyone else on an aircraft face stiff penalties including fines of up to $35,000 and imprisonment."
Steven D'Antuono, a senior Federal Bureau of Investigation official in the nation's capital, said Tuesday that officials are "actively looking at" adding rioters to the federal No Fly List.
50 min ago
Democratic congresswoman: Trump is a "traitor to our country"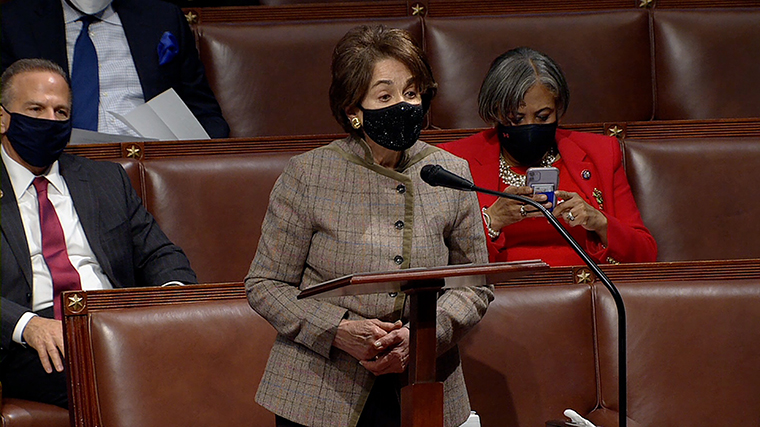 House TV
Rep. Anna Eshoo, a Democrat from California, called President Trump a "traitor to our country" during her speech on the House floor this afternoon.
Eshoo said:
"future generations are not going to know the names of each member in the chamber today, in voting, but they will know what we did and why. We must impeach the President, because he incited a mob that attacked the Capitol of the United States. The tabernacle of our democracy."
She added that Trump is "incapable of honoring his oath and our constitution, and he has proven to be dangerous."
"I will vote to impeach this traitor to our country," Eshoo said.
Watch the moment:
59 min ago
A historic debate is underway in the House over whether to impeach Trump. Here's where things stand.
A historic debate is currently underway in the US House of Representatives over whether to impeach President Trump.
Democrats are charging him with "incitement of insurrection" for his role in last week's deadly Capitol attack.
Rep. Jamie Raskin, one of the Democrats leading the charge, said House members "could've died" during the Jan. 6 insurrection.
He mentioned that the mob had erected a gallows outside the Capitol building and were heard chanting "Hang Mike Pence." He added that some of those who stormed the building got into House Speaker Nancy Pelosi's office and were heard yelling, "Where's Nancy?"
While many Republicans condemned the President's behavior, they argued that impeaching him would be divisive so close to his expected departure from office.
House Minority Leader Rep. Kevin McCarthy – a staunch ally of the President – said he believes Trump is responsible for the deadly Capitol attack last week but impeaching him would be a "mistake."
"The President bears responsibility for Wednesday's attack on Congress by mob rioters. He should have immediately denounced the mob when he saw what was unfolding. These facts require immediate action of President Trump," McCarthy said.
So far, six Republicans have announced they will vote for impeachment. They are:
Rep. Dan Newhouse of WashingtonRep. John Katko of New YorkRep. Jamie Herrera Beutler of WashingtonRep. Adam Kinzinger of IllinoisRep. Fred Upton of MichiganRep. Liz Cheney of Wyoming
Republican leaders are expecting about 10 to 20 House Republicans to vote for impeachment but sources tell CNN there are many more members who "want to vote to impeach but they legitimately fear for their lives and their families' lives," CNN's Jamie Gangel reports.
"Liz Cheney, these Republicans who have announced, they are showing courage at the same time as I have been told by Republican sources that members, Republican members, have said they are not going to vote for impeachment because they are still scared of Donald Trump," Gangel told CNN's Wolf Blitzer.
"I was told that the White House is continuing to pressure these members, that Trump has not stopped and that members 'fear for their lives and for their families' lives,'" she continued. "After what we saw on January 6th, a week later, that says a lot that the White House is still pressuring people."