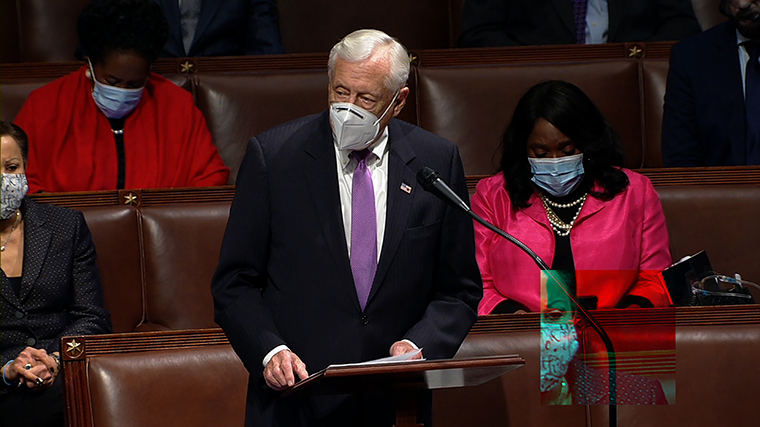 House TV
Making his closing argument, Democratic Majority Leader Rep. Steny Hoyer leaned on the words of the House's third ranking Republican, Rep. Liz Cheney, who is the only Republican in leadership to have called for impeachment of President Trump.
"This impeachment ought to be put in the perspective of what the Republican chair of the Republican conference said it was," said Hoyer, referring to Cheney.
"She said the President... summoned the mob, assembled the mob and lit the flame of that attack," he continued. "There has never been, she said, a greater betrayal by a President... of his office and his oath to the Constitution."
Hoyer went on to deliver a lengthy argument in favor of impeachment, returning multiple times to Cheney's condemnation of the President.
"This attack was not from abroad," said Hoyer, drawing a contrast to 9/11 attacks in which the Capitol was initially a target. "It was, as Liz Cheney said, summoned, assembled and inflamed by the President."
Cheney on Monday, told her colleagues the impeachment would be a "vote of conscience" opening the door for a number of other Republicans to also announced they would vote to impeach. Since then several House Republicans have called for her to step down from her leadership position.
Meanwhile, House Republican Whip Rep. Steve Scalise made his closing argument in opposition to impeachment on the House floor, speaking just before Hoyer.
Scalise, himself the victim of political violence in the 2017 Congressional baseball shooting, cited his experience but said lawmakers must seize this opportunity to cool the national political climate.
"Our nation still mourns the unacceptable violence and anarchy that took place in this Capitol last week," he said. "Emotions are still high, but in this moment we need to be focused on toning down the rhetoric and helping heal this nation as we move towards a peaceful transition of power to President-Elect Joe Biden next week."
"I've seen the dark evil of political violence firsthand and it needs to stop," he said. "...I oppose this rushed impeachment brought forward without a single hearing."
Watch more: